Chile/Argentina - December '02 - January '03
On a snowy December morning at Chicago's O'Hare airport, the journey begins.
Our stopover in Miami was pleasant, but longer than anticipated after our pilot called in sick and no replacement could be found on Christmas day.
Thirty six or so hours after departing Chicago, we were flying over the Chilean Andes.
Nandus on the move in Patagonia
Colony of pinguinos at Seno Otway
Just a few weeks old, these young penguins have yet to shed their fleecy down for swimming feathers.
Mother and young guanacos
River meandering from Lago Nordenskjold in Parque Nacional Torres del Paine.
Roaring current of Salto Grande
Mountain view across Lago Pehoe
Hotel Glaciares tour bus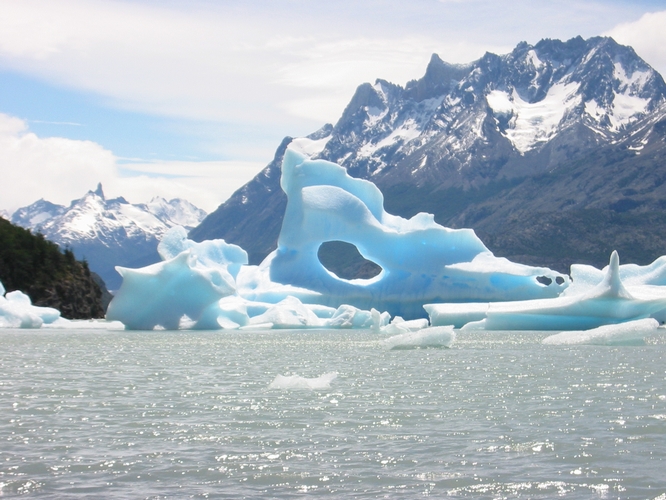 Icebergs floating in Lago Grey
Glaciar Balmaceda slowly slides into Seno Ultima Esperanza, The Sound of Last Hope
As is customary after hiking to the glacier, a shot of pisco chilled with prehistoric glacier ice
Chilean immigration tried to keep us from leaving Chile as a result of a minor paperwork snafu. Luckily we got everything sorted out but our bus driver was about to abandon us here in Cerro Castillo, on the Argentine border.
Hey, polar bears don't live in the southern hemisphere! Guess nobody told him. This one accompanied us to the Perito Moreno glacier in Argentine Patagonia.
Chunks of ice crumble from the glacier, as seen from the water.
The massive river of ice, as seen from land.
Snowy mountaintop origins of the glaciers, as seen from the air.
Santiago's finest. With human companion.
Stray Chilean gato
Yum, bloody fish heads at the Mercado Central
Wine barrels at the Santa Rita winery
12:13 PM on January 3, 2003. It's a beautiful summer day in Santiago. And the hotel phone has a button to summon our butler.
Riding the ascensors of Valparaiso, Chile. What better way to spend the afternoon after being pelted by yogurt in a botched robbery attempt.


Last updated May 29, 2003